This is an archived article and the information in the article may be outdated. Please look at the time stamp on the story to see when it was last updated.
HUNTSVILLE, Ala. – Drawn together at a hectic airport terminal 20 years ago, Curt and Cari Worshek didn't realize they would eventually land in Huntsville and make a huge impact on the community.
"We were on two different flights, it was about 11 o'clock at night and both planes broke down in Dallas, Texas," Curt Worshek recalled. "There were probably a couple of hundred really upset people, some screaming and yelling. Then, there was this small group of about six people just chilling out over to the side. Cari was one of them. We just instinctively ended up together. A year later, we were married."
Confident in what love can do, the Worsheks find their greatest accomplishments in life are not their own – they belong to others they help along the way.
"Curt and I were going in two different directions when we met, but we were definitely on the same page," Cari Worshek said. "He was just saved. He was on fire with the Holy Spirit. It was a natural connection between the two of us."
Curt Worshek is pastor of the non-denominational Malachi Church in Northeast Madison County. He's led mission trips to Nepal, Nicaragua and Africa.
Worshek is also president and campaign chairman for the Huntsville Swim Association. He is opening doors for the less fortunate by using the sport of swimming as a catalyst of compassion.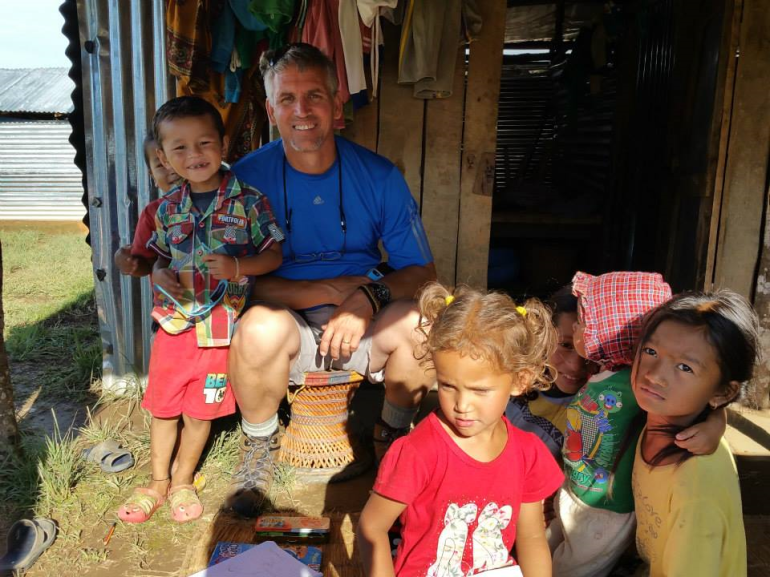 HSA hosts the legendary Fran Norris meet for the first time in the new Competition Pool at the Huntsville Aquatics Center, Oct. 27-29. Events begin on Friday, Oct. 27, at 5:30 p.m. Action resumes at 8:30 a.m. on Saturday and Sunday. Admission to the USA Swimming event is free. The meet attracts some of the top athletes in the Southeast.
"Cari and I have two boys who swim, Caleb and Riley," Worshek said. "They are both home-schooled high schoolers, who serve right alongside us. When they are not in the pool, or doing school, they are teaching children to swim. They've been able to travel with us on several mission trips."
Worshek was born in Omaha, Nebraska, in 1961. His father was in the Navy. During his youth, Worshek's family moved nearly every two years. He graduated in 1979 from Eisenhower High School in Houston, Texas, and went straight into the Army.
"My dad was in the Navy for 20 years and I was in the Army for 20 years. I made E-6 pretty early and my commander told me I should go to Officer Candidate School. I finished two years of college while jumping out of airplanes in the 82nd Airborne Division. After spending my last 15 years flying helicopters, I retired at age 39 as a Major, came here, and started working in the defense industry. Fortunate to serve as a program manager, vice president and president at two companies for over eight years, Cari and I committed our lives to ministry."
Worshek graduated in 2012 from Southern Theological Seminary in Louisville, Ky. He is entering his third season as president of HSA.
Once he began to focus his attention on what mattered most in his mind, Worshek says his life changed. He found something inside his heart he knew was there all along and brought it to the forefront. Serving and local community service took off once internal change became external.
"When we moved here 17 years ago, we landed in a church that had an inner city focus in its ministry," Worshek said. "Often convicted in my soul about not being the one getting off the bus with the families and children, learning where they live and getting to know them, I have looked for ways to practically minister in underserved communities. My wife Cari has always had similar convictions and has inspired me with the humility she displays, the unconditional love she gives and the time she commits to serving the homeless single mothers and fatherless children at the Downtown Rescue Mission, our church family, our neighbors and especially our swim community. She does so much for so many."
Working under Worshek's vision, the Sea Dragons swim team was formed at the Dr. Richard Showers Recreation Center. Youthful excitement fills the center during practice as the squad of 50 boys and girls ages 5-17 glow with grateful emotions.
Volunteers from HSA, who were recently recognized by the mayor, help coach and mentor the children. Worshek feels starting a swim team at the Showers Center was the best way to interact with and serve the surrounding community in a positive way.
"Looking at the impact of swimming and the potential for ministry, I really saw an opportunity to reach into the underserved area of Huntsville that never had a swim team," Worshek said. "I looked at the kids swimming for and graduating from HSA, the colleges they go to and the GPAs they have, the community service they do and just felt there should be a way to give everyone a chance to be thread through that process that competitive swimming provides and get them in the same sort of place. Over the last two years, in addition to running the Sea Dragons, we have provided scholarships to several Showers' children to compete with the Rocket City Swim League (RCSL) and this fall we will award the first two annual scholarships for Sea Dragons to swim on HSA. All of this has been made possible through the incredible people who donated to the Swim For Success Capitol Campaign in conjunction with the support of the city."
Several HSA swimmers have verbally committed to college scholarships, including Huntsville High School's Ryan Barlow (Michigan State) and Regan Weakley (Auburn), Athens High School student Kobie Melton (Arkansas) and John Paul II Catholic School senior Emily Vasquez (Evansville).
Melton, Weakley and Alison Hu were recently named to the USA Swimming Scholastic All-America Team.
Worshek is the founder and campaign chairman for HSA's Swim For Success program. The program formalized HSA's free lesson program for underserved children and created the foundations for a swim team in North Huntsville. HSA has partnered with the City of Huntsville, the Inner-City Learning Center, the Showers Center, A RCSL team, Compass Life and a growing team of loyal businesses to implement the program.
"Curt (Worshek) came on as president of HSA at the perfect time," HSA Head Coach Matt Webber said. "He is concerned about all children. It is not just the missions he's started with HSA, like the Sea Dragons team, the Swim For Success program, improving what we're doing with the Huntsville Learning Center, he's just improving swimming overall and using it as a vehicle to touch more kids' lives in a positive way. I think that far and away exceeds anything HSA as a competitive swim team will ever do."
Worshek says Webber is the cornerstone piece allowing the team to grow and move the city to consider building a world class facility like the new Huntsville Aquatics Center. The team jointly hosted the Southeastern Long Course Championships with Huntsville's Sports Commission and Parks and Recreation Division, providing $1.46 million in revenue for city businesses.
HSA hosts the Short Course Championship meet and Senior Zones next year as well as several more USA Swimming events.
"All of those things are a result of Matt (Webber), the excellent coaching staff he's formed, the HSA board of directors and all the volunteers we have on the team," Worshek said. "We have so many people on this team and in the community who have been so beneficial. At Southeasterns, we had 360 volunteers. It's unreal what it takes to host a meet of that magnitude. In the last two years alone, HSA has grown from 365 swimmers to 518. It's becoming a relatively large operation. The HSA board is the anchor and every single person from the board of directors to the coaches and all of the volunteers do such an incredible job."
The Worsheks are constantly serving others. On the Friday night before HSA's first intra-squad meet of the 2017 short course season, Curt and Cari were delivering flowers as part of a fundraiser, before helping with the meet setup in the indoor facility. Early Saturday morning, they were both helping out again, before Curt took the microphone during a break in the meet and recognized many dedicated volunteers. That same afternoon, he went to the Showers Center to work with the Sea Dragons. Sunday morning, he was behind the pulpit delivering a sermon at his church.
"Curt is just who you see," Cari Worshek said. "He's very dedicated to what he believes in. Huntsville is sort of his first real home for any length of time. He loves it here and wants to make it a better place."
Both husband and wife feel they were destined to be together from the start. They look back and see how much they've continued to grow as Huntsville reaps a lot of the rewards. Curt Worshek talks of more missions forming in the future. Like life itself, everything is a work in progress. He points to the accomplishments of HSA with great excitement. He knows he's nowhere near done serving this community he loves.
"I cannot say enough about what Curt (Worshek) has meant to the team to even give him justice," said HSA Vice President Sherri Cimino. "His military prowess, his business savvy, his people skills, his kind heart, his generous spirit and so much more are very meaningful to what he has accomplished. He is mission-minded and can minister to children in an awe-inspiring way. There is a bigger picture to all of this that he understands so instinctively. These are just some of reasons why I feel that Curt coming here and becoming president did not happen just by chance."