This is an archived article and the information in the article may be outdated. Please look at the time stamp on the story to see when it was last updated.
The Melissa George Neonatal Memorial Fund is celebrating 10 years of making miracles happen in the Regional Neonatal Intensive Care Unit at Huntsville Hospital for Women and Children.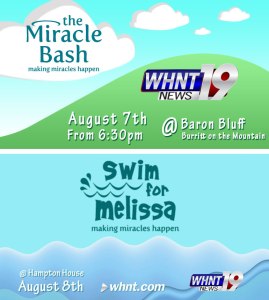 The fund was established by Chris and Amy George in memory of their daughter Melissa, who died shortly after birth. Melissa and her twin sister Ann Catherine were born 14 weeks early on June 1, 2005.  Ann Catherine spent 68 days in the NICU before coming home. She's now a healthy 10 year old who loves playing with her little sister, Lily Baker.
Thanks to the generosity of almost 7,500 individuals, Melissa's fund has raised more than $2.25 million!  And your donations are being well spent on the more than 1,000 babies from across the Tennessee Valley who receive life-saving care in the NICU each year.
Some of the items Chris and Amy have bought for the unit include 14 Giraffe Omni Beds, 46 patient monitors, 14 Giraffe Incubators, eight cardiac monitors and Keepsake boxes. The list goes on and on.
This year, proceeds from the 10th annual Miracle Bash and Swim for Melissa will be used to purchase a Giraffe warmer and isolette, four chairs that allow the parent to hold their baby skin to skin to ensure bonding and "Journey Beads" for parents to commemorate their baby's milestones in the NICU.
The Miracle Bash will be held Friday, August 7th from 6:30 to 10:30 pm at Baron Bluff at Burritt on the Mountain. Enjoy a delicious buffet dinner, fabulous silent auction and live music at one of Huntsville's most scenic locations.  Click here to reserve tickets.
Swim for Melissa is set for 9 a.m. to 2 p.m. at Hampton Cove Pool on Saturday, August 8th.  It's a non-competitive swim for kids 4 to 16 years old.  During the event, each child will have the opportunity to swim as many laps as possible in a set amount of time.  Registration is $20 per child and all participants will receive a free t-shirt. Register your team now at Swimformelissa.org.  If you have additional questions, you can also call the Huntsville Hospital Foundation at (256) 265-8077.
It's been a decade of Making Miracles. We hope you'll join us this year to help give tiny babies a fighting chance at life!