This is an archived article and the information in the article may be outdated. Please look at the time stamp on the story to see when it was last updated.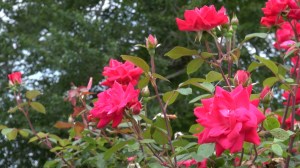 HUNTSVILLE, Ala. (WHNT) – Knock Out Roses are a hugely popular landscape specimen, especially here in north Alabama. The varieties are praised for their no-nonsense upkeep and disease resistance. But if you think your Knock Out Roses look like they're down for the count this year, you may be right.
Here's why. Although Knock Out Rose varieties are indeed bred to be tough, they can still fall victim to viruses like Rose Rosette Disease. The virus is also known as 'witches' broom,' but there's no magic involved here. The virus is hosted by a mite, almost invisible to the naked eye, which is literally blown onto perfectly healthy plants by the wind.
Rosette Disease is not exclusive to Knock Out Rose cultivars, but is most noticeable in the variety because we are used to having no trouble with the prolific bloomers.
Rose Rosette Disease (RRD) was first found in California, Wyoming, and Manitoba, Canada in 1941 and has emerged as one of the most devastating diseases of roses. Symptoms of the virus include new growth that is bright red and thorns that begin appearing in large clusters and quantities on the plants.
Other symptoms include witches' brooms or clustering of small branches; small distorted leaf growth; leaf reddening; excessive thorn production and thickened stems.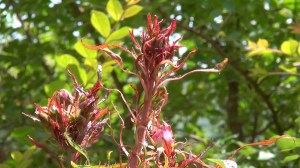 George Bennett with Bennett Nurseries in Huntsville tells us there's only one way to get rid of Rosette once a rose plant is infected — pull it up from the ground and toss it.
Once you remove an infected rose bush, the soil will be fine to replant, but you will not want to choose any rose variety for the infected spot.
Take a look at the photos below from Delano Park in Decatur before and after infection with Rosette Disease:
Knock Out Roses at Decatur's Delano Park looked healthy before infection with rosette disease. (PHOTO: Jim Jacobi, Alabama Cooperative Extension System)

Knock Out Roses at Decatur's Delano Park after infection with rosette disease. (PHOTO: Jim Jacobi, Alabama Cooperative Extension System)

Here's the Rosette Disease culprit -- the Eriophyid mite, only visible with a 10x or 20x hand lens, a little practice and patience. (PHOTO: Jim Jacobi, Alabama Cooperative Extension System)