This is an archived article and the information in the article may be outdated. Please look at the time stamp on the story to see when it was last updated.
MADISON, Ala. (WHNT) - A Bob Jones graduate, 31-year-old Todd Askew, got his dying wish: to spend his final hours back in north Alabama.
Askew passed Thursday after being diagnosed with a rare form of melanoma.
Dozens gathered for a vigil at Discovery Middle School to share stories and memories of the high school athlete and thespian.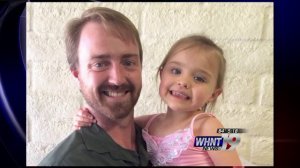 "I honestly believe God let Todd on this earth an extra week for us, for Anya, for his kids," said his best from Sammy Ajjuri.
Attendees wrote letters to the family, and signed their names on a wooden sign that will be later given to the family.
"My heart aches for his parents," said former classmate Chrissy Bartlett. "No parent wants to experience their child going before them."
"If we can imagine a world where everyone wore than kid of smile, what a joyful place it would be," said former classmate Stefanie Smith.
The focus now: the family left behind. Todd's daughter Avari has a rare blood disorder requiring blood transfusions every three weeks.
Friends are raising money to send the Askews to Camp Sunshine, specializing in the daughter's condition, Diamond Blackfan Anemia.
Friends have also organized a blood drive at Bob Jones High School on December 6 from 11 am - 5 pm.
Plans to support the Askews are being shared on a Facebook page.