This is an archived article and the information in the article may be outdated. Please look at the time stamp on the story to see when it was last updated.
HUNTSVILLE, Ala. (WHNT) – On Saturday, June 11, Pinhook Provisions Food Truck Park & Canteen will become a battleground as its food truck chefs battle it out for the best taco, and to raise money for two important causes, Merrimack Hall's Johnny Stallings Arts Program and the Food Bank of North Alabama.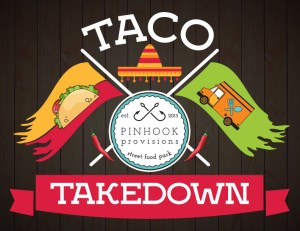 Back Alley Bistro, Café Neon Lily, Gourmet Grits, Hot Box, and Honey Pie Bakery will showcase their skills, as they vie for top dog, or in this case – top taco. The winner take all will be named as a judge in the popular Rocket Chef culinary competition later on Monday, August 8th.
"Our goal as an organization is to partner in causes near and dear to ours and our customer's hearts," said Amie Vaughn, Director of Development for South Realty and founder of Pinhook Provisions Street Food Park. "Both Merrimack Hall and the Food Bank of North Alabama are so important to the community – we want to support them in any way we can and think Taco Takedown is a great way to do this."
"Phil Sandoval, of Phil Sandoval's Mexican Restaurante, has graciously agreed to be Master of Ceremonies for the event and food sponsor, providing the rice, beans, chips and salsa bar," said Lauren Battle, on the organizing committee for Rocket Chef and Taco Takedown. "We have a limited number of VIP tickets that will be sold in advance, for $50 per person. VIP admission includes tent entry, reserved seating, 5 tacos, access to the rice, beans, chips, salsa bar, two votes for best taco, and other VIP perks. We are excited to expand our Rocket Chef fundraiser to a wider audience and be able to include the food trucks since they have such a presence in our local food scene."
General admission to the event is free, but if you'd like to taste the tacos and vote you can purchase tickets at the door for $10/ 2 tacos, 1 vote; $25/ 5 tacos, 2 votes. Hops Wild will provide a cash bar serving specialty craft beers in the Canteen.
Rocket Chef, a culinary competition, was created by members of the Leadership Huntsville/Madison County's Connect Class 17, as a way to get young professionals under 40 involved in the community. Inspired by TV shows like "Chopped" and "Cutthroat Kitchen," Taco Takedown will add another unique element leading up to the Rocket Chef event in August 2016.