This is an archived article and the information in the article may be outdated. Please look at the time stamp on the story to see when it was last updated.
HUNTSVILLE, Ala. – North Alabama's premiere barbecue event returns to downtown Huntsville the weekend of May 5-6. WhistleStop Weekend is now in its 17th year, and some great musical acts are coming to the Historic Huntsville Depot.
The Marshall Tucker Band will be the finale of what is sure to be an exciting weekend of music, friends, food and fun.  They'll headline Saturday night, playing southern rock hits like "Fire on the Mountain," "Can't You See," and "Heard It In a Love Song." They've earned seven gold and three platinum albums over the last 40 years.
"The buying public never really cared whether we were country or rock & roll" said lead singer Doug Gray. "They called us a Southern rock band, but we have always played everything from country, jazz, blues, rock & roll and all things in-between."
Leah Seawright with former ALABAMA drummer Mark Herndon will open for The Marshall Tucker Band on Saturday night.
Friday night, The Rembrandts will kick things off, known for their smash song "I'll Be There For You" from the hit TV show "Friends."  They'll be followed by the Gin Blossoms, whose hits include "Hey Jealousy," "Allison Road," and "Found Out About You" and "Till I Hear It From You."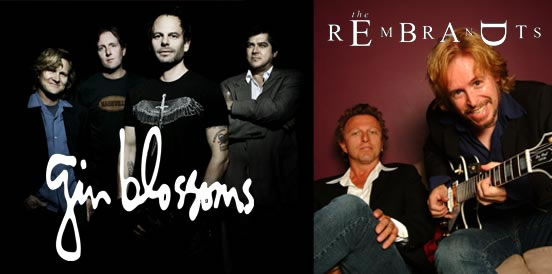 Local bands will also perform throughout WhistleStop Weekend, including The Beasley Brothers, Dirt Circus, Fender Bender and others.
"This year's entertainment is the best lineup we've had and will cross all genres," said Bart Williams, executive director of The EarlyWorks Family of Museums. For a full schedule of entertainment presented by Venturi Aerospace go to whistlestopweekend.com.
But let's not forget, the weekend is all about food, too! In fact, 150 cook teams in the Shadetree and Professional divisions have already registered to compete. Also returning this year are the crowd favorite Wing Thing Contest on Friday night and the People's Choice barbeque tasting contest on Saturday from 1pm-3pm.  People's Choice in Chili will take place on Saturday from 11am-1pm. Not to mention the always full of surprises CornHole Tournament and a fun and exciting kids area. Registration and information on all WhistleStop Weekend Activities can be found at whistlestopweekend.com.
Ticket sales for WhistleStop Weekend 2017 go on sale Friday, February 10th at 8am with an incredible promotion. Weekend passes that are $35 at the gate will be on sale for $20. The promotion will go through the end of February.
All proceeds from WhistleStop Weekend benefit the educational initiatives of The EarlyWorks Family of Museums.