This is an archived article and the information in the article may be outdated. Please look at the time stamp on the story to see when it was last updated.
MADISON COUNTY, Ala. (WHNT) -- Jennifer Fay Powers is a wife, a mother, and a daughter. But, since 2008, she has been missing.
Five years ago this month, her husband, Jason Powers, says he woke up in their Harvest home and Jennifer was gone without a word, without a note, and without a trace.
She'd even left behind her purse, driver's license, and medication.
"She just disappeared," says her father, Samuel Locke.  "We did not even get to say goodbye.  The pain of not knowing does not ever go away."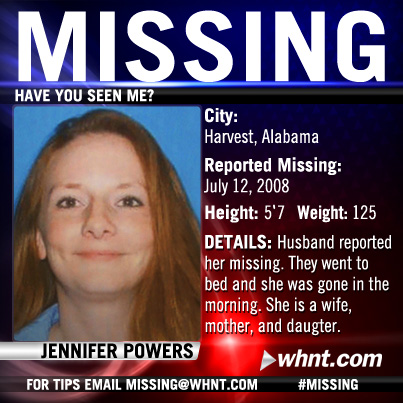 Tragedy struck this family yet again last year. Jennifer's 17-year-old daughter died after a brief battle with cancer.
"It sends chills down your spine to know a mother did not attend her daughter's funeral," Madison County Investigator Brian Chaffin told WHNT News 19 earlier this month.
The family admits Jennifer had a drug problem, but they say she loved her family and would never walk away.
"If she had just gone out and overdosed, someone would have found her the next day," said Locke.  "It's been three years. It's obvious somebody doesn't want her to be found."
In the weeks after Jennifer went missing, dozens of people searched the woods and rural areas around her Harvest home.  Investigators say they do not have any suspects in her disappearance and are just waiting on someone to come forward with fresh information.
"Someone out there knows where Jennifer is located and all they need to do is tell us so this family can get closure," Sgt. Chaffin added.
If you have any information about this case, please call the Madison County Sheriff's Office at (256) 532-3715.