This is an archived article and the information in the article may be outdated. Please look at the time stamp on the story to see when it was last updated.
HUNTSVILLE, Ala. – Within two weeks of the Church Street road closure, one local business, Schnitzel Ranch, is suffering from loss of revenue so much so that they are already having to cut staff and hours.
Just this week, Schnitzel Ranch had to let go two staff members and cut operating hours to three and a half days instead of six.
They made this post on their Facebook page: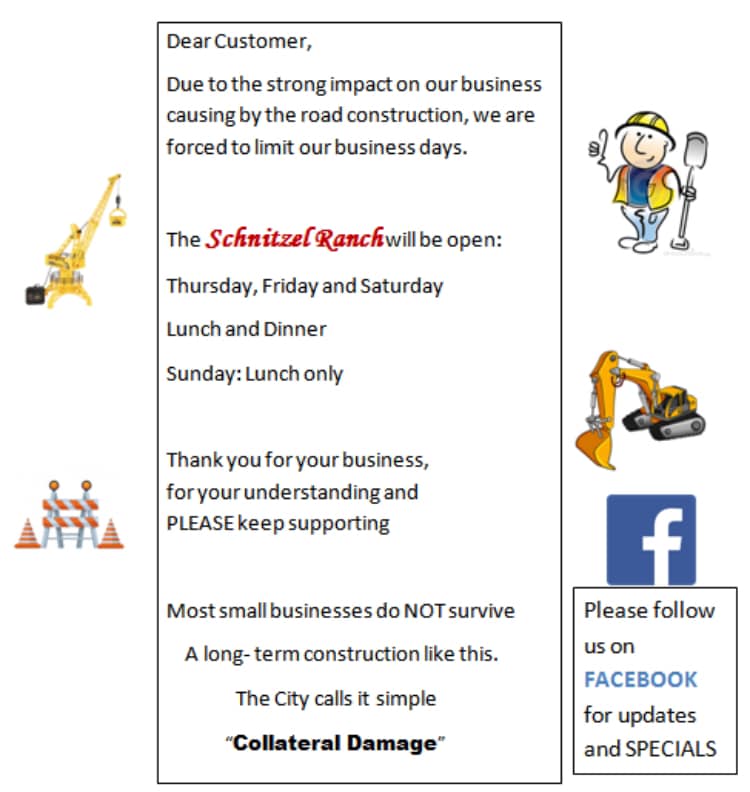 The City of Huntsville added signage last week to alert drivers that the nearby stores and restaurants are still open, despite the road closure.
However, Schnitzel Ranch owner Renja Schmitt says that even with the signage, their sales have decreased by nearly 75 percent due to the lack of passing traffic.
"A lot of customers, even if they know you are here, if they're comfortable, they don't have a lot of time to drive around. They have a short lunch break, so every detour, every extra mileage, every extra ten minutes they have to drive around, they're losing on the break, so they cannot do that," said Schmitt.
Schmitt says she wishes she had more notice so she could have possibly relocated the restaurant.