This is an archived article and the information in the article may be outdated. Please look at the time stamp on the story to see when it was last updated.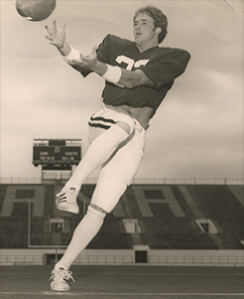 Not only was Benny Perrin an athlete — he was a husband, a father, a grandfather of two, a friend, a man of God and a leader in the community. One year after his death, his wife, Courtney Perrin, agreed to talk with WHNT News 19's Taylor Tannebaum about Benny, his struggles, his legacy and the disease that took her husband's life. She wants others to know the danger associated with playing contact sports.
"Benny loved football. It's been his identity. It's been our family's identity. He said he'd do it again. But we know 100% the CTE is what caused this," said Courtney. Chronic Traumatic Encephalopathy or CTE, is a progressive degenerative disease of the brain found in people with a history of repetitive brain trauma.
On Friday nights in the late 1970s, fans would fill Ogle Stadium to watch quarterback Benny Perrin lead the Decatur Red Raiders. The two-time all-state QB went on to win two National Championships under the great Paul "Bear" Bryant at Alabama. In 1982, Perrin was drafted in the third round by the St. Louis Cardinals and spent four years in the NFL.
But the game Perrin dedicated himself to ended up costing him his life.
"It was just sad because there's nothing you could do. You wanted to help, but his mind just took over," said Courtney.
"He was a giver and a lover. He would give you the shirt off his back. He was a family man loved his kids and grandkids and myself more than life. I know that if love could've kept him here, he'd still be here."
But the same game that once created Perrin's identity, ultimately took it away.
On February 3rd, 2017, Benny Perrin took his own life. In the years and months leading up to his death, Perrin battled health issues ranging from headaches to depression. An autopsy later revealed the 57-year-old had CTE.
"For the most part we're still in shock and disbelief this occurred because they know, even his own words, how much he loved life and his family."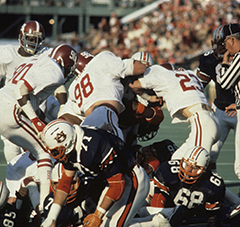 More and more research is being done to understand and reveal the link between football and CTE. According to research done by Boston University's CTE Center, 111 brains of former NFL players were studied and all but one were linked to the disease. The study also states that kids who started playing football before the age of 12 have more cognitive and behavioral problems later in life than those who start after the age of 12.
"If it was me personally and my son, I wouldn't want him to play football because I've seen the pain and torment left behind for our family," she said. "I also know football has brought a lot of good to many lives."
CTE is often found in athletes.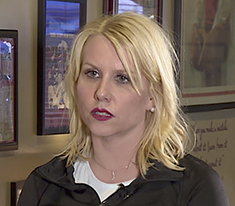 "Benny said it himself," she recalled. "He'd described a lot of times, he'd get hit and stumble and walk to the wrong huddle."
It is difficult to go through a situation like this with a loved one, especially since CTE can only be detected after death. "You feel helpless because you wanna help. If I had known before he passed that we were truly suffering with CTE there are a lot of things we could have done differently. Would've been more patient, more understanding and sympathetic about things we walked through but we didn't know. We didn't know."
Boston University's CTE center is making strides in learning more about the disease and it's connection to football.
"Main thing I would like people to take is it's real. I just want education. It's real in a lot of homes, not just men, but younger athletes, and I just want people to know the risk."
Courtney is now an advocate for CTE and stresses the importance of education, knowing the risks before taking the field and knowing the signs and symptoms to help identify it if a loved one is suffering from the disease. The Concussion Legacy Foundation is a great resource, one she recommends.