GlobeNewswire
HAGENS BERMAN, NATIONAL TRIAL ATTORNEYS, Encourages EHang Holdings (EH) Investors with Substantial Losses to Contact Firm's Attorneys Regarding Investigation into Possible Securities Law Violations
News provided by
Hagens Berman Sobol Shapiro LLP
Nov 20, 2023, 12:34 PM ET
SAN FRANCISCO, Nov. 20, 2023 (GLOBE NEWSWIRE) -- Hagens Berman urges EHang Holdings Limited (NASDAQ: EH) investors who suffered substantial losses to submit your losses now.

Visit: www.hbsslaw.com/investor-fraud/EH
Contact An Attorney Now: EH@hbsslaw.com
                                                  844-916-0895
EHang Holdings Limited (NASDAQ: EH) Investigation:
The investigation focuses on the propriety of EHang's statements concerning the business prospects for its electric vertical take-off and landing ("eVTOL") aircraft.
On Nov. 7, 2023, Hindenburg Research published a scathing report entitled "EHang: Hollow Order Book And Fake Sales Make This China-Based eVTOL Company Last In Line For Takeoff." The report concludes, "[o]verall, EHang seems to have a major credibility issue – whether it be by fluffing up its preorder book (which looks to almost entirely be vapor) or by brazenly misleading about early sales that bear all the hallmarks of fake revenue."
Hindenburg first explained that EHang's share price has surged, in part, due to "a recently granted aircraft design certification from the Chinese government, and a 1,300+ unit pre-order book, suggest[ing] imminent largescale revenue."
Hindenburg found that: (1) "EHang's much-touted, recently granted certification comes with numerous flight restrictions that it has failed to fully disclose to investors[;]" (2) "[t]he restrictions invalidate the bulk of its commercial use cases[;]" and (3) "EHang's flagship aircraft would need a billion-dollar redesign and an entirely different class of certification to avoid the limitations."  
Hindenburg further found that "92+% of EHang's claimed 1,300+ unit preorder book is based on 'dead' or 'abandoned' deals, failed partnerships, and newly-formed customer entities with no discernible operations." As one example, Hindenburg observes that EHang's largest deal is a 1,000 unit preorder from one of its pre-IPO investors (United Therapeutics) but that United is looking for aircraft with a 250 nautical range versus the 19-mile range offered by EHang. Hindenburg also quotes a United executive as saying "'I don't think anyone could say right now that they [Ehang] have a certifiable configuration in terms of aircraft design.'"
In response, the price of EHang American Depositary Shares closed sharply lower on Nov. 7, 2023.
"We're focused on investors' losses and are investigating whether EHang may have misled investors about whether its purported 1300+ preorder book could possibly translate into actual sales revenues," said Reed Kathrein, the Hagens Berman partner leading the investigation.
If you invested in EHang and have substantial losses, or have knowledge that may assist the firm's investigation, submit your losses now »
If you'd like more information and answers to frequently asked questions about the EHang investigation, read more »
Whistleblowers: Persons with non-public information regarding EHang should consider their options to help in the investigation or take advantage of the SEC Whistleblower program. Under the new program, whistleblowers who provide original information may receive rewards totaling up to 30 percent of any successful recovery made by the SEC. For more information, call Reed Kathrein at 844-916-0895 or email EH@hbsslaw.com.
About Hagens Berman
Hagens Berman is a global plaintiffs' rights complex litigation law firm focusing on corporate accountability through class-action law. The firm is home to a robust securities litigation practice and represents investors as well as whistleblowers, workers, consumers and others in cases achieving real results for those harmed by corporate negligence and fraud. More about the firm and its successes can be found at hbsslaw.com. Follow the firm for updates and news at @ClassActionLaw. 
Attorney advertising.
Past results do not guarantee future outcomes.
Services may be performed by attorneys in any of our offices. 
Contact:
Reed Kathrein, 844-916-0895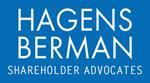 NOTE: This content is not written by or endorsed by "WHNT", its advertisers, or Nexstar Media Inc.
For inquiries or corrections to Press Releases, please reach out to GlobeNewswire.